I did some mad promoting tonight so hopefully we'll get some god damn applicants.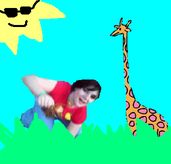 yeah i know its totally sweet. my best friend made it. playing with giraffes in the green plains
and i made this shirt. its really messy but i like it. :D
tastexmyrainbow is love
haha i amuse myself.